Free
WhatsApp

QR Code Generator
Your WhatsApp Click-To-Chat Link
Why
WhatsApp Web

QR Codes?
Customers contact you via Click to Chat WhatsApp QR codes on your website and landing pages - they do not need to add your phone number to their contacts.
Instant connection to WhatsApp profiles
Ensures privacy without sharing phone numbers
Versatile for both online and offline promotions
Hassle-free opt-ins without saving numbers
Benefits Of Using WhatsApp
QR Code
Users no longer spend time saving a number — they instantly initiate a dialogue just by scanning the QR code. This eliminates unnecessary steps and makes the process of starting a conversation extremely convenient.
WhatsApp QR codes easily adapt to any promotion channels, be it advertising stands on the street or digital platforms, allowing businesses to attract a diverse audience.
Users get the opportunity for safe and direct communication with the company without disclosing their personal information, and all this without the need to create additional accounts or profiles.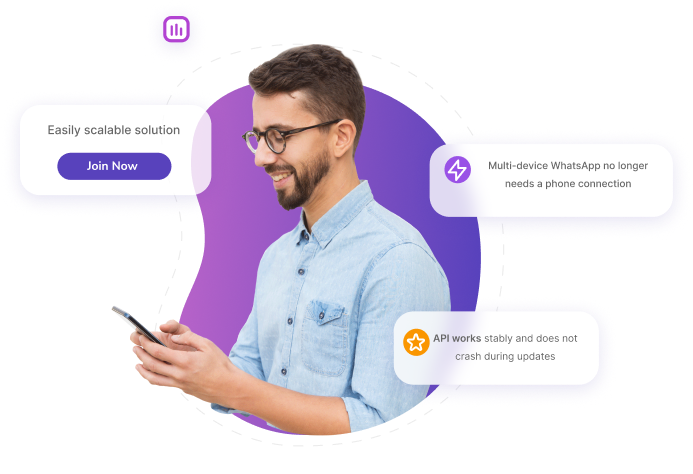 Everything you need for WhatsApp automation in one place
Are you using WhatsApp to interact with your customers?
We help programmers and small businesses automate any WhatsApp function and set it up to run on autopilot with chatbots, group management, bulk messages, polls, goods, orders and more!

Trusted by 500+ Customers from 17+ Countries
API WhatsApp
Customers
Our REST API has been developed for coders to be extremely easy to use and accessible to everyone, regardless of programming language or frameworks. Check out the API documentation to learn how to send bulk messages, work with groups, check account availability, and much more
1,5K+
channels working
right now
12M+
of user requests we process with a high level of stability
"Automation allows you to send automatic responses when people text our numbers.
This serves our customers on Whatsapp 24/7."
jurgen k. / Web Developer
"We integrated Whatsapp into our CRM and trained our chatbot to automatically answer common questions."
foden p. / Developer
"We made our WhatsApp Bulk Messaging Tool, which helps us easily deliver messages to multiple WhatsApp numbers."
Kerry T. / CTO